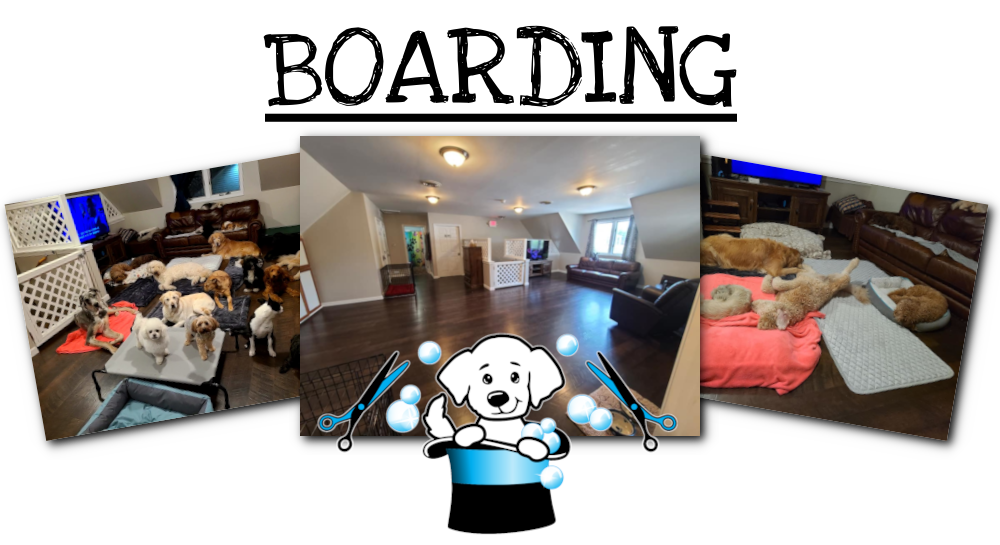 Important Information about our Boarding services:
Dropoff Times
Monday - Saturday
Before 12PM/Noon
Sunday
9AM - 10AM ONLY
Pickup Times
Monday - Friday
6:30AM - 6:30PM
Saturday
8AM - 4PM
Sunday
9AM-10AM, 1PM-2PM, & 5PM-6PM
Please Read Thoroughly:

All dogs must be active Daycare members in order to use our Boarding services, and they may be subject to a scheduled reassessment if they have not been attending daycare at least two times per month. For any new client, we'd like to see your dog(s) attend Daycare at least five times before we approve any Boarding stay.
While boarding, your dog(s) will be in daycare throughout the day, and will have the opportunity to have breaks and quiet time as needed. There is no additional charge for Daycare while your dog is boarding with us.
Our Luxury Boarding Suite is a home style set up with a bedroom, kitchen, bathroom & living room.
Dogs are typically loose in the room with our overnight staff. We have dog beds, blankets & furniture available to sleep on. We do have the option for kennels/pens in the suite for pups who are used to being in them at night at home.
Dogs who mark or get destructive may need to be kenneled as well, but that would be discussed with the owners ahead of time.
Last "out" is usually between 10:30-11PM, and we are up at 5AM for their first "out" in the morning before serving them breakfast and resting again before daycare starts for that day. So, pups that are kenneled are in them as little as possible.
Deposits are required when scheduling a Boarding stay around a holiday. The deposit will be applied toward the total amount due for the stay.
Your dog's food needs to be portioned out into ziplock bags per meal for boarding stays. Please be sure to pack extras and label the extra food bags as "extra". If your dog is with us for an extended stay, contact us and we will work out different food arrangements.
If your dog has food allergies or is limited to specific treats, you are more than welcome to provide them. We have designated areas to keep them.
If your dog has medication, please let us know ahead of time. Pills will need to be kept in their original packaging/bottle with the instructions, medication name and prescribing vet info.
Boarding is only available at our Horan Road Location.
To Schedule Boarding for your dog(s), please Contact Us today.

If your dog isn't already enrolled in Daycare with us, please fill out our Daycare/Boarding Application for your pup(s), so that we can schedule an assessment as soon as possible.
BOARDING PRICING
| | |
| --- | --- |
| One Day: | $50 per Dog |
| 10 Day Package: | $450 per Dog |
| Holiday Deposit: | $50 per Dog |
Please Note: All Boarding stays include a Full Day of Daycare. The Holiday Deposit is non-refundable, and will be applied to the total amount due for the stay. NYS Sales tax is required to be collected, and is in addition to the amounts shown.
Hear what some of our clients have to say:
I absolutely love taking my dog to Shear Magic. Other grooming places that I have taken her to, left her so stressed out that she would have an accident there. Never at an issue at Shear Magic. Kristin and her staff do an amazing job and are extremely reasonable. Plus it is so clean. Would definitely recommend it! - Debbie Rolince